Post by fjfabrik on Aug 31, 2012 16:06:41 GMT -5
WW2 German Parachute Rigger Packing Tool Kit (Packwerktasche, or PWT): Price - $200
Fellow Fallschirmjaeger enthusiasts, FJ-Fabrik is thrilled to announce the availability of a really great piece of Fallschirmjaeger kit – the kit used to contain & transport all of the 'rigger tools' needed to pack up and maintain the wartime RZ-series parachutes! The Germans utilized 2 types of these PWT's – one was made exclusively for Fallschirmtruppen, the other was used by Luftwaffe personnel who packed & maintained parachutes for pilots and aircrews. Rather than post them on Ebay, I'm offering them first to the FJ Reenactors on the FJ Pro-boards and FJ Yahoo Group, because those are the virtual "Bierstube" where the guys who are truly dedicated to the FJ impression hang out.
Several years ago I examined an original, took some measurements for a pattern, but had to put production of these repros on hold while I tracked down the proper materials -- as well as the proper contents -- so that I could produce them for the FJ Reenactor community. It took me some time, but I think the finished products are really amazing, and are exclusive from FJ-Fabrik; to my knowledge (and I've done some checking), nobody else in the world is reproducing these.
Here are some of the features:
SNAPS: The snap fasteners used on originals are identical to those found on the German Parachute Transport Bags (like "Lift-The-Dot" snaps, but instead they have the words "Zieh Hier" (Pull Here) stamped into the female socket. I combed the earth for snaps that had the German text stamped on them, but they just aren't made anymore. Fortunately, I found the next best thing – the same style snaps without any lettering (just plain). However, the rear socket plates on mine actually do have "DRP" stamped into them, just like the originals!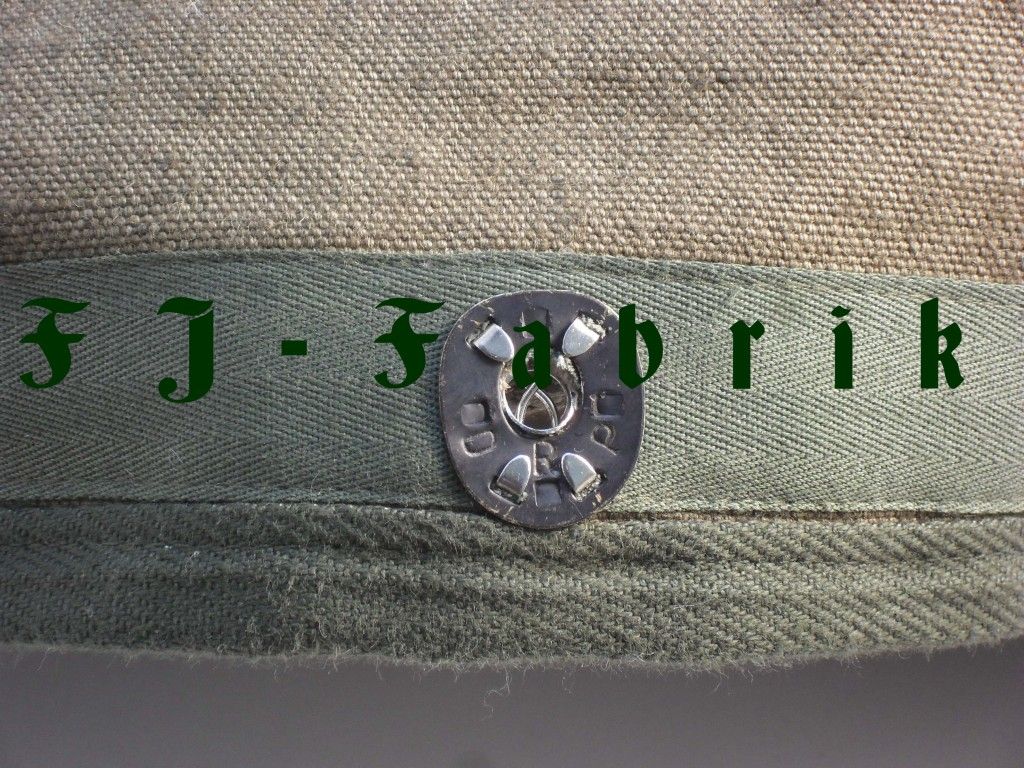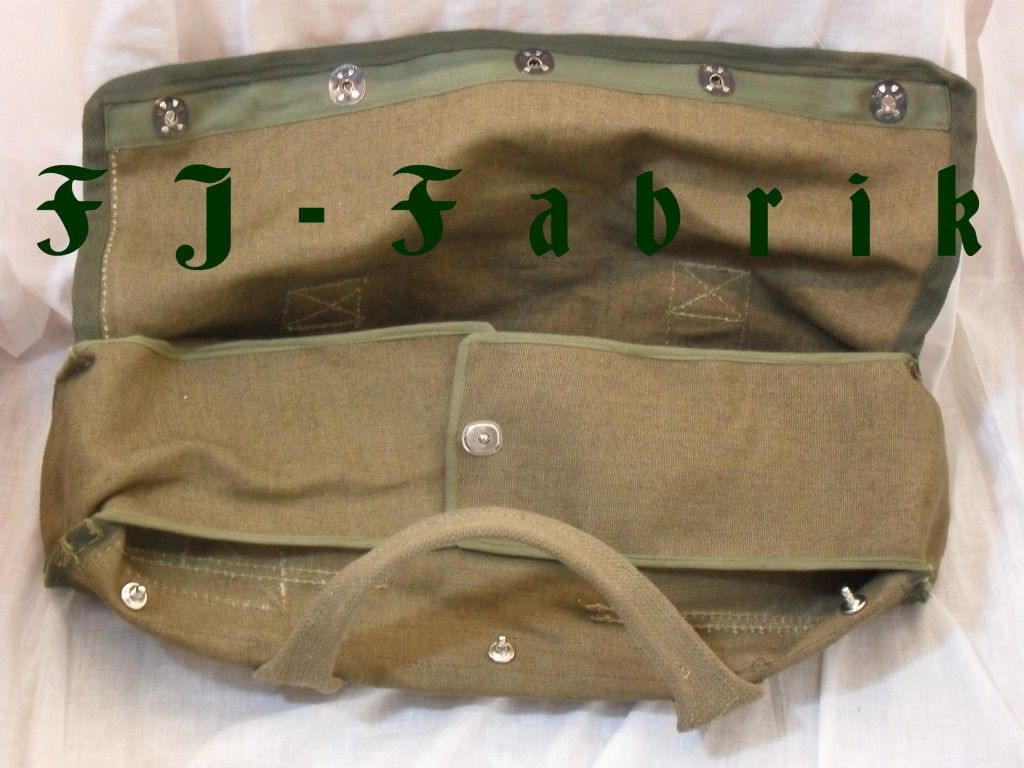 CANVAS: The canvas used on originals is very similar to the canvas used for the Pack Tray of an RZ-16 or RZ-20 parachute. This FJ-Fabrik reproduction uses identical canvas – it almost screams "WW2 German"! I've even copied the cloth Nomenclature label, complete with LW inspection stamps!!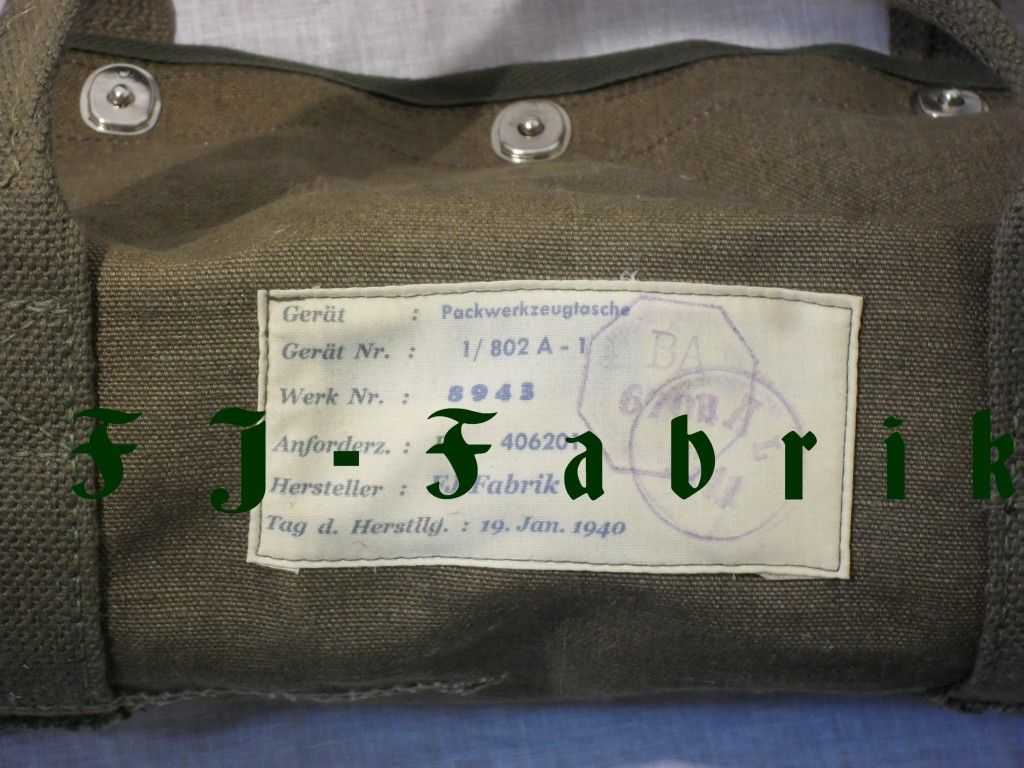 PACKING TOOLS: I've assembled a few sets of tools & items that were found in the original kits – The contents of the Fallschirmjaeger PWT are all listed in the are listed in the wartime German parachute manual L.Dv.T.5201. A few items are wartime era production, some are post-war manufacture that are identical. Each tool had a specific storage pouch (typisch Deutsch!), and I even copied the individual tool labels – how cool is that?!?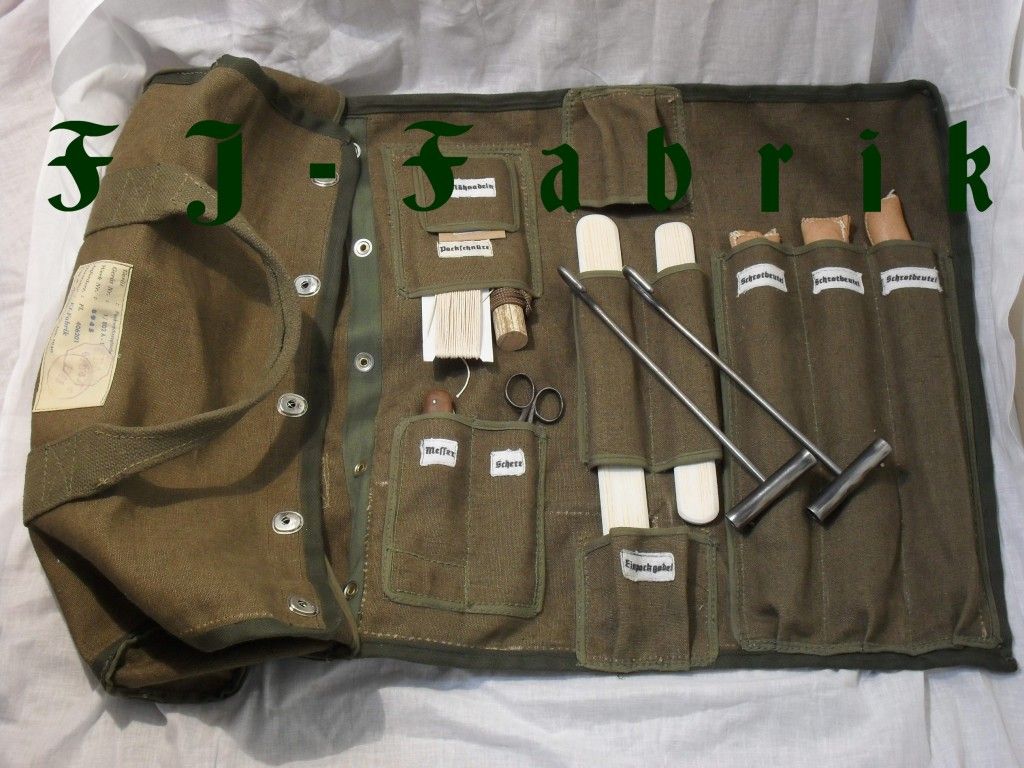 Pure and simple, this Packwerktasche is NOT for the guy who is content with just the basic kit items. This is one of those items for the hardcore/fanatic FJ reenactors, who've obtained all their basic kit, and have advanced on to early war kit, tropical kit, "jump impression", etc. In fact, it isn't really a "personal kit item" at all; it's more for your "unit impression", particularly if your unit conducts high speed living history displays that incorporate German parachutes, or parachute packing demonstrations. Our 5./FJR6 unit uses our PWT as part of the chute packing display at our annual "Battle of Crete" living history display with the Ju-52 at the Virginia Beach Airshow.
Note: each kit contains 3 lead shot bags, used to weight down the canopy once it's folded into the "skinny Christmas Tree" shape, just prior to packing it into the Deployment Bag. These things are pretty heavy; in fact, the additional cost of shipping them to you full of shot would cost more than if you simply purchase your own lead shot and fill them yourself. What I propose is to provide you with 3 empty shot bags, so you can fill them yourself, and simply whip-stitch the end closed to contain the shot. I suppose you could also fill them with sand; they wouldn't be as heavy as they should be, but may be heavy enough. If you'd rather not mess with it, I can include 3 'filled' shot bags, but be prepared for hefty shipping fees.
First come, first served; contact me at FJFabrik@yahoo.com
if you'd like to purchase one.
- Don C